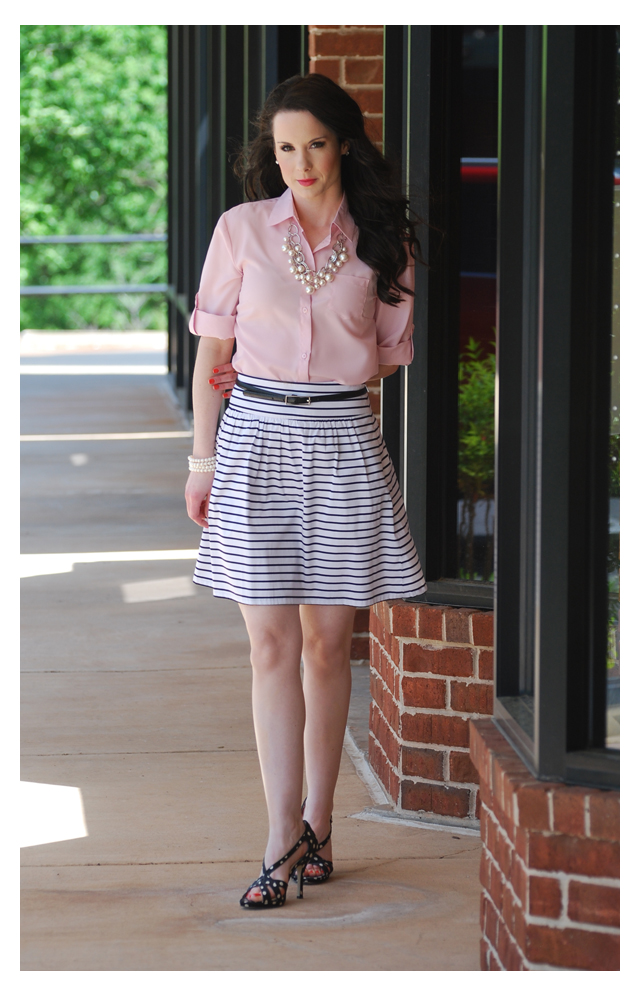 Happy Tuesday! Today is our two month blogiversary!  Starting our own website from scratch has been quite the adventure.  Who would have thought a blog/website would require such research and decision making!?!  Fortunately the easiest part was picking our title.  Can't quite say the same for our logo, but we will save that for another post.  Although we are just newbies, we already love blogging and sharing our twin-style world with you.
We figured this celebration called for a special "tea party" edition, brought to us on behalf of L's fabulous and feminine outfit!  Today's look features an exceptionally comfortable and feminine pink blouse purchased at The Limited. The sleeves can be rolled up or down, and it has a high-low hem we've seen on so many runways and look books this season. Stripes and polka dots are always fun to invite to any party, as seen by the choice of skirt and selection of shoes. Of course, we don't endorse this length of skirt for work – but it would be more than welcome at a shower or other variety of girly party.
The Double Take Girls' tip of the day: Be brave and experiment with mixing patterns this spring.  We promise you will be delighted!