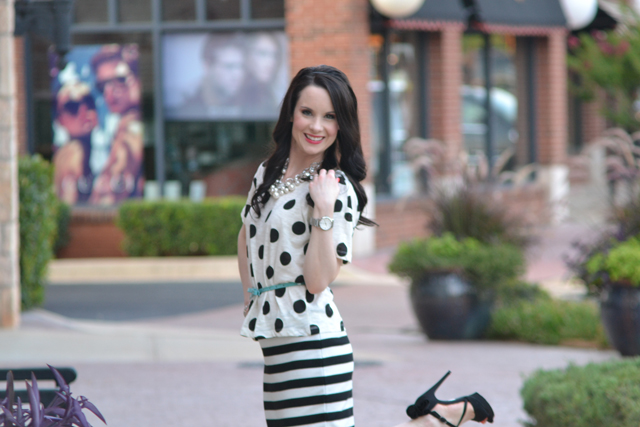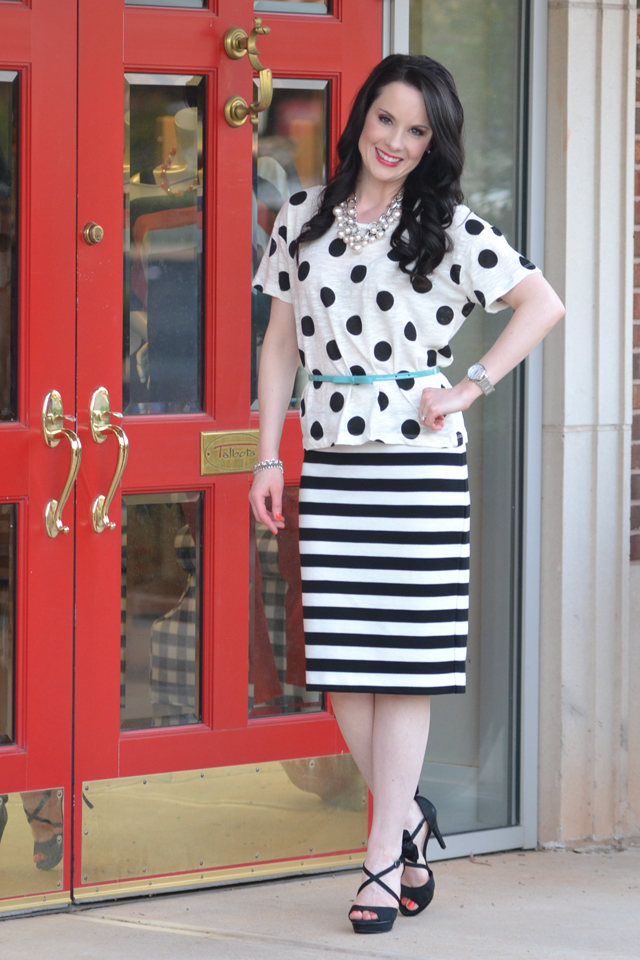 Happy Saturday Lovely Readers~
This is a busy weekend, as our oldest girl cousin is getting married! We are so excited for her, and can't wait for the ceremony tonight! Plus, W is having some contractions a little close together, so I'm being very strict that she slows down! It's going to be a warm evening, so W and I are brainstorming still on our dress choices.
As I was picking out ideas for the rehearsal dinner, this idea for the polka dot and stripes combo hit me. One of my favorite style blogs is by Rachel over @ the pink peonies. She loves mixing prints and lady-like styles, which helped inspire me in styling today's outfit. See her blog here.
I like this photo location because of the pop of color. Yes, you will notice that I'm standing in front of our local Talbot's. I love the red door there, and it keeps bringing me back! Though I don't own anything from this store currently, it doesn't mean I wouldn't help a client shop to find classic items there.  But, for the time being… I'm riding the "I can still get away with buying things at Forever 21." I still have 5 months til turning 30, right?? 
Back to the task at hand: I have received reader questions about how much we spend on a typical outfit. First rule is that we never shop without coupons or store promos. Unless it's at a store that doesn't run sales or offer many discounts (i.e. Forever 21), you will expect that we will either wait to purchase something until it has been reduced in cost, or we have been sent a promotional mailer/email etc. Today I spent time thinking back on how much I paid for the items in my outfit. The best deal is the Limited pencil skirt, because they are originally at over $60. We love mixing price points, instead of thinking everything has to be low or high. 
Question of the day: What are your favorite low and high priced brands that you like to mix?
Skirt, The Limited (on promo for $19.50)
Top, Forever 21 ($ 6.80)
Belt, Forever 21 ($3.80)
Necklace, The Limited (40% off, around $17)
Watch, DKNY (gift given to me a few years ago)
Bracelet, Ann Taylor ($8), Tiffany's (gift)
Shoes, Miss America brand for DSW (purchased last summer for $39)
Outfit approx. total: $94