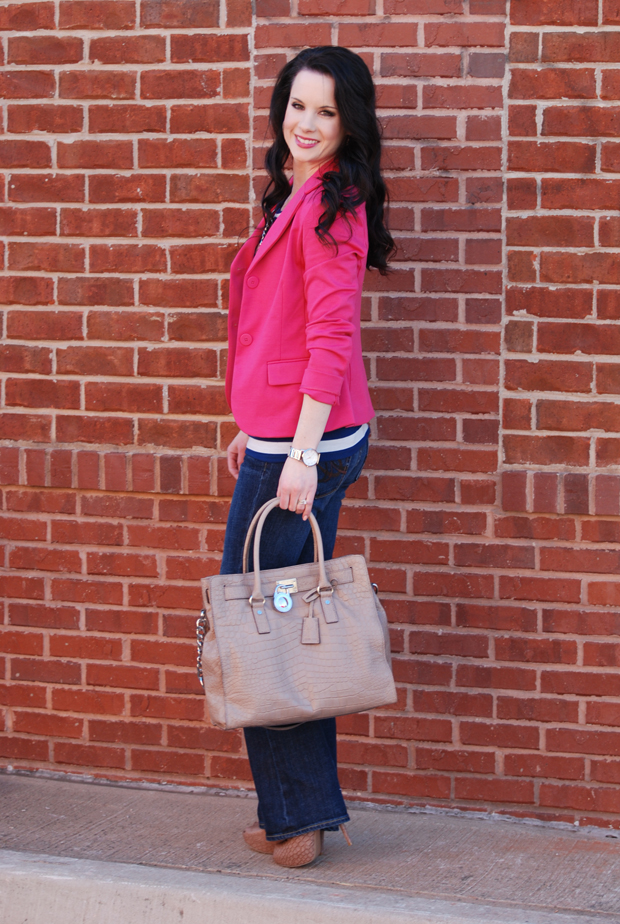 Casual Friday… yeah! I love the denim and blazer mix. I would consider this a "go to" outfit when I'm in a hurry. And let's face it, sometimes by Friday our creative energy is dwindling. The great thing is that this outfit combo can work for any size and shape. On your next casual Friday, try these approved by L steps:
1.) Shop your closet for a pair of jeans or a denim trouser in a medium to dark wash, with little fading. (Fading and light washes are usually not as flattering.)
2.) Select a blazer that you may have purchased alone or as part of a suit. I like to check and see what color the lining is first, and then decide if I should just push the sleeves up, or roll them up to expose the lining color. 
3.) Find a top or tee to add visual interest and color as needed. Think polka dots, floral, stripes, or a fun pop of color.
4.) Complete with a flat or heel that is appropriate for the season and your office. I prefer shoes with a heel to lengthen the leg, but the choice is yours. 
5.) Finishing touches: Add a modern necklace and bracelets, along with a structured tote – and you are out the door! 
Jacket, Gap (may still be available in stores)

Top, Forever 21

Denim, Express

Necklace, Bracelet, Loft

Bag, Michael Kors via Dillards

Shoes, Jennifer Lopez for Kohl's