Hello Lovely  Readers~
Welcome to the second part of our "Wear It Two Ways" blog post, featuring the Simply Delight dress from Sugarlips. Today W is showing us her spin on this classic black and white color block dress. Since we still have some cooler temps in our area, she "winterized" this pretty spring piece with mod printed tights, a classic blazer and neon scarf.
You can use her same three steps to make a little spring dress work in cooler weather:
1. Warm up with leg wear! There are an endless variety of color and pattern options available these days.  And now that the spring is around the corner, it's the perfect time to stock up on tights/hose being put on clearance!  
2. Cover up with a cardigan or blazer.  Goosebumps are never a fun accessory!  If your item of choice is not fitted, make sure to wear a skinny belt at your natural waist to keep you from looking boxy.
3. Perk up the look with a bold colored accessory, such as scarf, gloves or hat.  Bright pastels or neon colors are always in style. Thin knit infinity scarves are a great way to add interest without being overwhelmed by lots of fabric.
Voila! Your dress is now ready to transcend the seasons!
Now for some "Who wore it best?" trivia.  What do you readers think?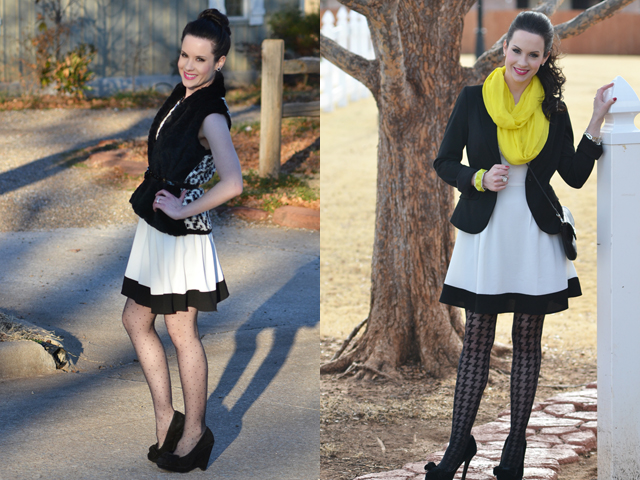 Blazer, Express
Tights, The Limited (may be left in stores, currently on sale)
Shoes, Gianni Bini via Dilards
Sunglasses, Fossil
Scarf, The Limited (may be left on sale in stores)
Bracelet, Forever 21
Purse, Coach
Thanks for joining us!
~L&W