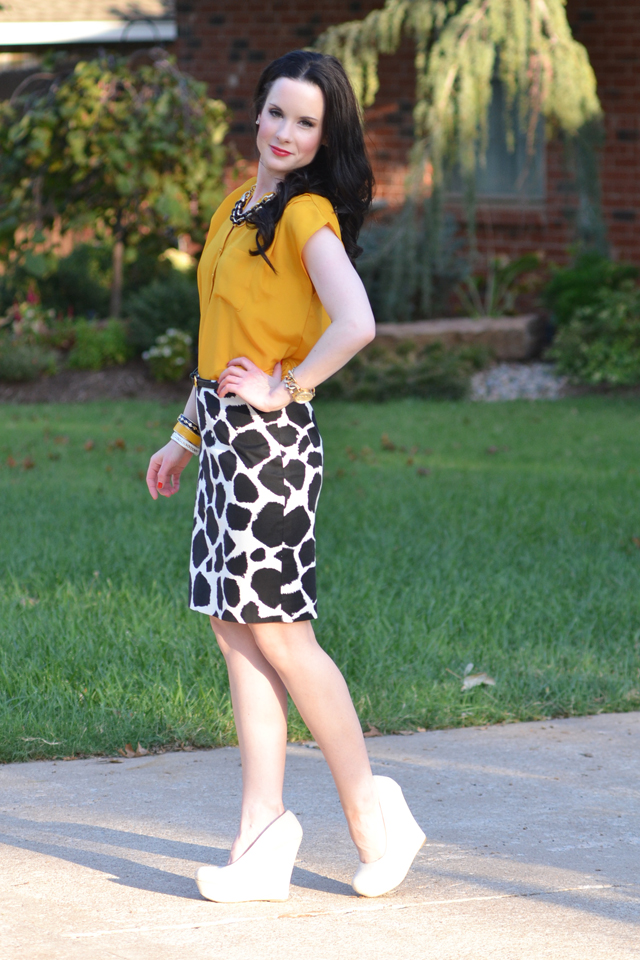 Welcome to Thursday!
It is turning out to be a nice, quick week due to the holiday. While I'm still waiting for cooler temps (unfortunately still 100+ degrees here), I thought I'd pull out one of my favorite pencil skirts from last season. As you can tell, it is another animal print item from my vast collection. Let's face it – it's just so hard to resist these while shopping!
Here is the quick and easy outfit formula for my look featured today: printed pencil skirt + pop of color on top = a chic, fun outfit. Just change the shoes to flats or a low wedge if you are headed to school or errands, etc. 
What is your favorite pencil skirt you have purchased lately?
Top, NY&Co (shown in pink below)
Skirt, Loft (last summer)
Shoes, Payless
Belt, Forever 21
Necklace, Banana Republic (may still be on clearance in stores)
Bracelets, The Limited
Watch, Michael Kors
Nails, Essie in Clambake 
Shop a similar outfit in stores now: