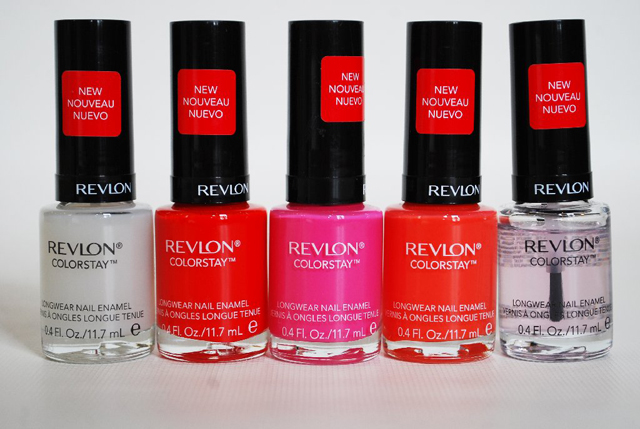 Happy Monday!  It's L here with a review of the new Revlon Colorstay nail colors.  I couldn't wait to try this product since they are marketed as having 11-day wear with gel-like shine. As my fellow friends and family know, I truly love nail polish. I have been collecting nail color since I could drive. Okay, probably even earlier than that… but the true fixation started at 16. I had to get to the weekly drug store sales some how! Anyway, I had always used the Revlon colorstay duo for years that came with its own top coat. It was discontinued a few years back, so I was thrilled to see an updated version being introduced back into the market.
The Revlon website tells us that  "Colorstay nail color formula is fortified with unique ingredients that provide high impact color and gel-like shine in fashion forward range of shades and finishes. This technology is based on a unique combination of resin and high molecular weight polymers designed to provide flexible, shatterproof color with excellent color retention and gloss." We love that this is available in 32 shades. One thing to note is that this type of long wear formula is based on use of the base and top coat in conjunction with the actual nail color (base coat is pictured on the far left, top coat on far right). Surprisingly, even though you are using 3 steps, it actually dries very quickly.  
DoubleTakeGirls' verdict: we love this! It actually stays on at least a week for me, with lots of shine and minimal to no chips. That is good considering I type for hours at work, wash my hands very frequently, and I sometimes do the dishes. So, there you have it – our DTG followers will love this new and improved polish! 
Picture of my top 3 favorite colors:
005 Base coat
080 Delicious
050 Passionate Pink
110 Marmalade
010 Top Coat