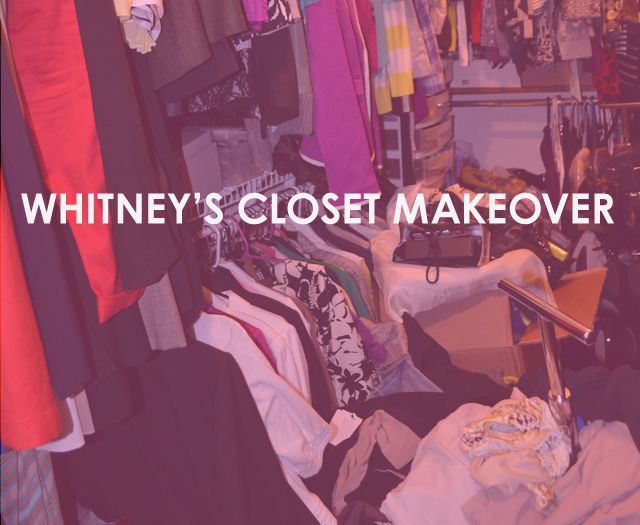 Drum roll please…this is the BIGGEST post we have ever written! Today we are airing Whitney's closet confessions. Get ready for some amazing before and after pictures, and all the details in between.
During her pregnancy, W used a rolling rack in her room to store of all her favorites she could still wear plus her maternity clothes. Her closet started to get neglected each month and she even started using the floor for storage. Her three-year-old daughter also loves to play in her closet, so that added to some tumbling piles. Regardless though, by the 3rd trimester, W had lost the energy and ability to try and do something about the disorganization.
A few weeks back, my amazing sister told me she was getting so frustrated with the lack of closet organization at her house. She had just had baby Avery and was recovering from her c-section. With recovering from her surgery and caring for her new baby & her toddler, I knew the closet cleaning out was going to be next to impossible.  Thus, I decided she needed a closet intervention, and fast!
The closet makeover begins:
I had heard about the amazing Riley Group from one of our favorite blogs: Pencil Shavings Studio. The Riley Group is a concierge and lifestyle management service, and organizing disastrous closets is one of their specialties. Rachel from Pencil Shavings had shared her "Closet Makeover" post earlier this year, and I was in awe of the process and results. A few weeks after W delivered, I noticed that the Riley Group was doing a Friday Feebie on their facebook page. The prize was a complimentary closet makeover for a well-deserving family. I nominated Whitney, and to our excitement, she won!! Here is how the story continues:
THE BEFORE…
Issue at hand: ovecrowding!!
W loves an accessory… or a few! But unfortunately, her current system was to wear things without getting them back to the place they came from. Then again, they probably didn't have a home to begin with. Any lovers of organization starting to get nervous yet?? Well, it gets worse from here…
W has a walk-in closet that is U-shaped with two closet doors. Both door entrances were crowded with hanging items, making it very hard to enter and exit without bumping into something.
As you can see, W's husband Brant is a very organized guy. We only spent about five minutes sprucing up his side. We even bargained to see if we could get some of his space. But, then we quickly decided to let him keep the little space he had. 
Main Issue: Clothes were packed in so tight that W couldn't move things to find where items were located. The night before Caroline from the Riley Group came over for the closet project, Whitney and I did go through and edit out all the things she didn't love wearing anymore. We had two piles for consigning, a pile for giveaway, and a pile to Ebay. While we still need to do another sweep though her closet for a second cleansing, I didn't want to overwhelm her at one time. As you probably have noticed by  now, she has a lot of clothes. She has a hard time getting rid of things… obviously.
Here at the DoubleTake Girls, we have been inspired by a great post that Susan over at The Working Closet wrote this summer entitled: Wear It Now. She talks about how if you are not wearing something now, then it's not an asset. W and I are the worst about saving "nice things" to wear to something "nice" in the future. Well, as we all know, that specific event may never come up. As a result, we are then adding pieces to our closet that aren't wise investments because they aren't being worn regularly. If you aren't wearing it, then it has to go! Going forward, we are going to work together to put Susan's advice into practice for our shopping ventures and closets. 
More walkway being clogged with scarves and bags, etc.
On the back wall of her closet, W has two California Closet oganizational sets. But over the years, they became runover by excessive accessories. The bins up top (purple is her favorite color) had things tumblimg over the sides from being overly stuffed.
From the pictures, you can obviously tell Whit loves shoes… but sometimes she'd even trip over them trying to get ready!
The Closet Work Begins:
After taking the piles off the closet floor, Caroline, Whitney and I started to sort through them to decide what to toss, giveaway or consign. Although we had gone through some things the day before, there was still a TON left to sort and organize. We took down all the shoe boxes and bins from above the clothing rods, and tossed what she didn't need anymore. Readers, let me tell you, this took major perseverance. W had years of random accessories, receipts, and bags of who knows what that had piled up. Caroline probably thought W and I were goobers since we kept having sisterly conversations about why or why not something should be kept. I did end up showing some tough love with W on the "yes" and "no" piles just so we could keep making progress on this massive job!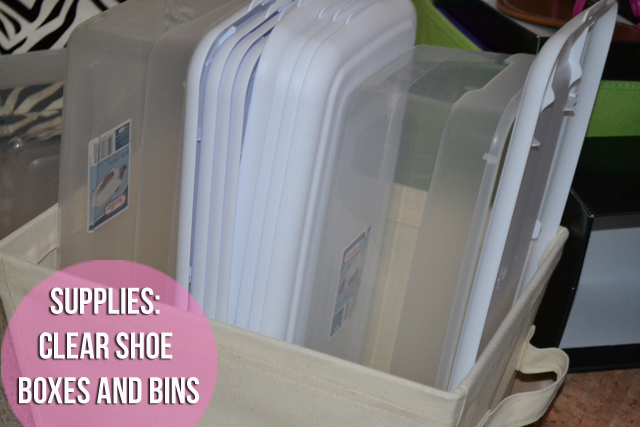 During the makeover session, I ran to Walmart to get more supplies while Caroline and Whitney continued the task at hand. Caroline went through all the clothing and made sure that items were hung correctly, and by color and pattern. Once I returned, I was able to work on the tops and she moved onto the accessory wall. 
We aren't going to lie, this took some major sweat – but thankfully we had enlisted the professionals! It was worth it all, once we got to the end point. Thankfully she said that they have seen much worse when it came to closets, allowing us not to feel completely mortified with airing this closet confession. But then again, what's a confession without airing a few dirty details?
After hours of work with the amazing Riley Group, we took a step back to take in this miraculous view:
The After: You can SEE THE FLOOR!
Top Row (center): Shirts organized by color and weight (sheer and layering tops)  
Bottom Row (center): Tops organized by color (sweaters and casual tops)
Top Row (left): Skirts, divided up by pattern and color, along with pants, hung by color and length (cropped, full length, etc.)
Bottom Row (left): Jackets organized by color
Note, there are no skirts or pants are double hung. Caroline and I were driven crazy by the fact that W would hang two items on one hanger! And sometimes things would be inside out as well. I love the art of organization and always kept our shared bedroom growing up in tip-top shape. We may be identical twins, but we don't have all the same strengths. After seeing all the hard hours of work, I promised Caroline that I'd look after W's closet to make sure nothing crept back in. 
Now she can find her pants organized by type, color and length. Plus there is now room to actually take the pair of pants out and put it back in its place.
We also threw away many of her old shoes boxes since she couldn't tell what pair of shoes were stored inside. Instead, we exchanged them out for the clear plastic shoes boxes (around $2 a piece).
Caroline diligently organized this wall that was previously overrun by accessories. Now W can find all the jewelry she is looking for to pair with her outfits. Each little drawer has a similar type or color of jewelry. The bins located above now contain neatly folded scarves. To our disbelief, there were even a few empty containers to use for storage in the future. 
Belt drawers were another danger zone. Her little girl K loves playing with her belts because they were easily accessible (ends hanging out of the drawers and on the floors). Now each belt is kept in a neat shoe box sorted by color.
This is where we take a step back to soak up all the beauty we never thought was possible. Now it's time for us to CELEBRATE her new closet! We'd like to give a big THANK YOU to the amazing Riley Group. Caroline was so great to work with, and we were completely impressed with her organizational skills. Your team made a miracle happen. We couldn't be happier with the closet makeover!  
The Riley Group also offers concierge and lifestyle management services in affordable packages or a la carte.  Whether it's personal or professional, one time or ongoing, they want you to be able to shift your focus to what's most important in your life!
We highly recommend them and hope this post will inspire you to embark on your closet makeover today!
~ L&W