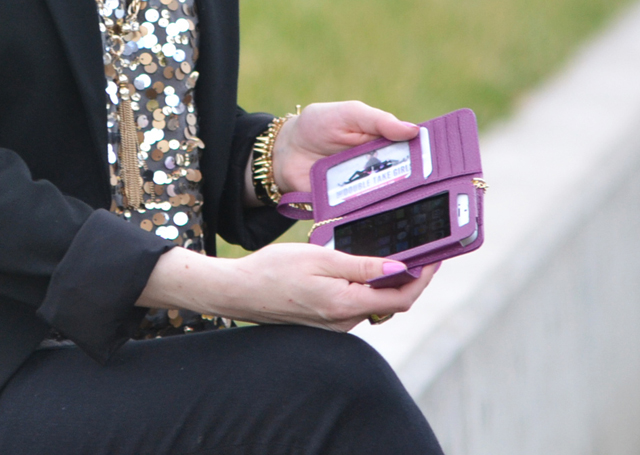 Here at the DoubleTake Girls, we love looking chic while still being comfortable. What good is looking fashionable if you are dying to get out of an itchy blouse or shoes that pinch? We feel the same way about our accessories.  So that's why we are in LOVE with BellaVita's newest item: a fantastic wristlet designed with fashion and function in mind!  No reason to sacrifice looking chic with this item.  The oh so talented designers at BellaVita thought of everything when they added this awesome phone wristlet to their already fabulous and functional collection.  We could hardly wait to see them in person when we got the news of the iPhone 5 version pre-release last week! 
Here are the details for the VitaBacca Wristlet in "hot berry" and the Vita Violetta in "deep purple":
– Luxurious leather and luscious colors
– Combines an elegant iPhone case with a convenient wallet
– Allows for full iPhone 5 functionality 
– Space for credit cards, driver's license and cash
– Lifetime guarantee
We love the new array of colors as well. The pink ("hot berry") and purple shades are by far our favorite…but we are a bit partial seeing these have been our fave colors since each of us can remember.
Our new wristlets arrived in the mail just in time for us to debut them this weekend when we got to have some much needed sister time.  They added the perfect pop of color to our outfits!
And for the best news, BellavitaUSA is now offering these wristlets at a special introductory price of $65 (reg. $75). These would definitely make great Valentine's gifts to give and receive!  You can visit their site here for more information.
~L&W
P.S. We'll post our outfit details later this week 🙂