Isn't this room lovely? When I was in Dallas earlier this fall, my husband and I were able to see this room in person! Of course, we walked the entire store with our list of things we'd love to have "one day". Knowing that could be years, I've had making an affordable DIY for this on my the list of things to do. Here's my attempt at our first DIY on the blog! Image Source: Restoration Hardware.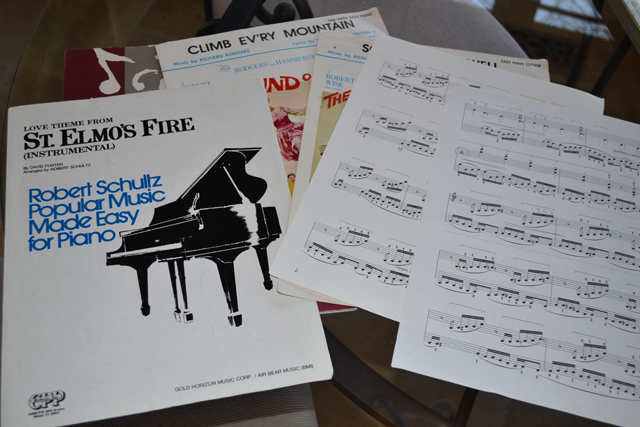 Step 1: Find sheet music 
W and I played the piano for many years growing up, so I had easy access to several "old" pieces of sheet music. Some of the piano books we had hadn't faded much over the last 10 -15 years, but the sheet music seemed to have turned less white. I ended up choosing "Danse Negre", since it offered 3 sheets of music that had "aged". I also read another DIY tutorial that recommended soaking brand new, copied sheet music in tea. I may try this down the road, but for now I wanted a quicker DIY.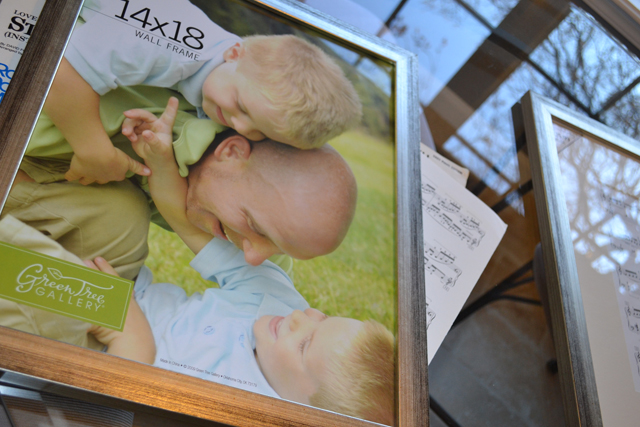 I chose three frames at my local Hobby Lobby that were 14×18. I wanted a frame color that I didn't have to paint, but that was already a mixture of metal colors since our bedroom has both silver, brass and gold.
These were 50% off last week, so each cost around $13. The original Restoration Hardware frames set sells for $199. I couldn't find where it listed how many come in the "set" though. 
Though the frames seemed of average size, I had to get custom mats cut to fit. This happened to be an odd size of mat that Hobby Lobby doesn't stock. But they had lots of paper color choices and it took only a few minutes to have them made. They run $8 per mat at this size.
Note: Hobby Lobby lets you use one of the 40% off an item coupon. (But not custom framing)
The next step (not shown) is to carefully tear apart the pages of the sheet music you are going to use.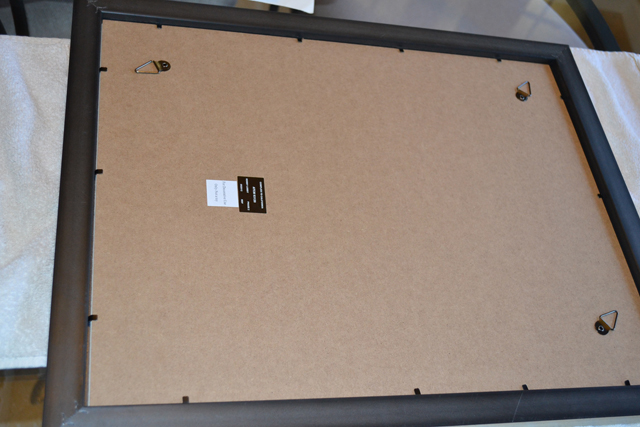 These frames had easy backs to remove, as well as were already fit with the hanging requirements.
I simply removed the back, and placed the new mat face down into the frame.
I then used a small piece of tape on each edge to secure the sheet music.
And as easy as 1,2,3 – I have a framed piece of sheet music! The great thing is that it can easily be replaced with another option at any time, such as a photograph or art print. Though I loved using music that W and I used to play – I may be on the hunt for something even older!
Now the reason I needed to find a way to make these art pieces a DIY project on my list: THE BEFORE
Our master bedroom has come a long way. It went though a transformation this summer, being that our house was built in 1979. Texture, paint, popcorn removed, new carpet, new furniture – basically new everything! That last job was to add some finishing touches on the walls.
AFTER: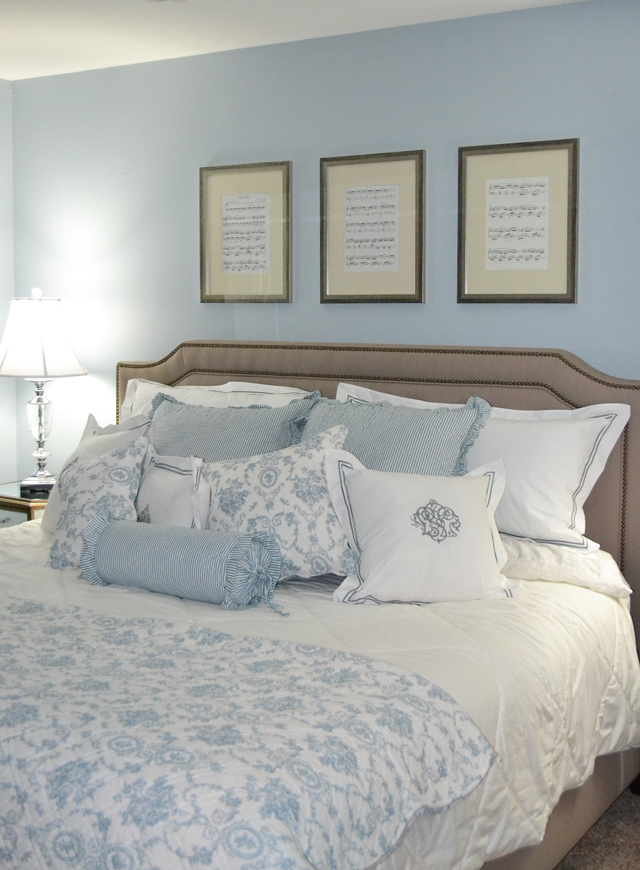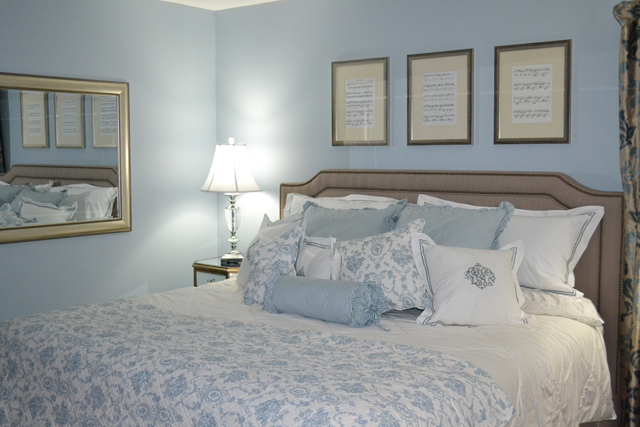 Bedding, Dillards; Headboard and lamps, Mathis Brothers; Curtains: JCP, side tables: Kirklands
I received this new quilt and pillows for Christmas. Though I much prefer shopping and styling clothes – I went out on a limb and mixed two different sets of bedding. The quilt and striped pillows are from the Noble Excellence Sabrina Collection. The shams with monogram and blue edging are the Valcourt Hotel Collection. 
Thanks for joining us today for our very first DIY project.  We look forward to sharing a monthly style or decor project going forward!
~L