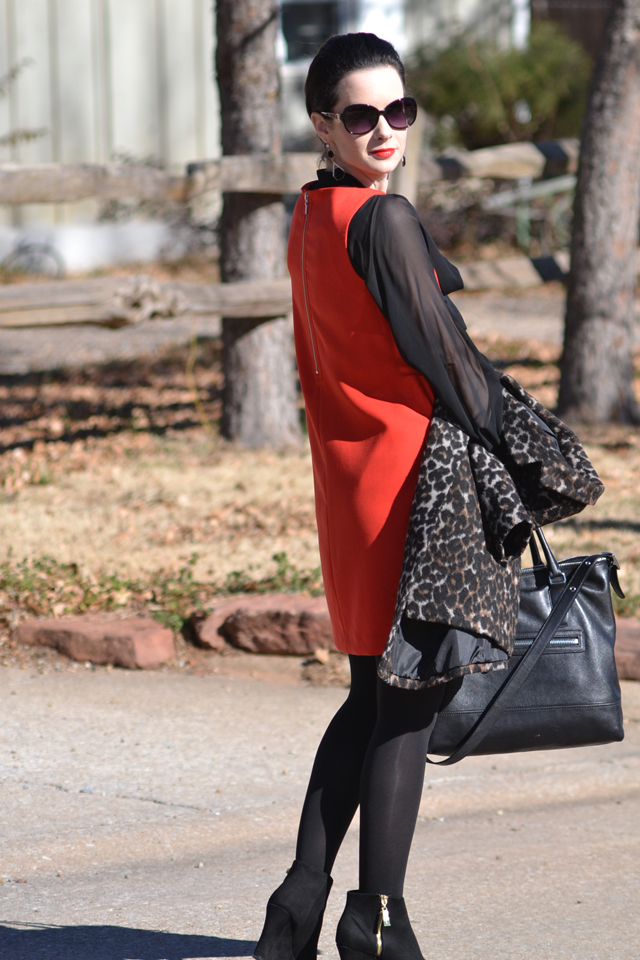 Happy Tuesday Readers~
I hope everyone had a wonderful weekend! This is my outfit from last Sunday. My goal was to be warm yet chic for church. I picked up this shift dress from Gap back a few months ago when it went to clearance for around $18. I had eyed it since its release and was so excited to stumble upon it on the sale rack during a random shopping venture.  I love wearing shift dresses with opaque tights.  It's a comfortable way to wear shorter hemlines without having to worry about showing too much leg. This leopard Old Navy coat was a gift last year from W, but we noticed they released it again this year. There may be a few left on clearance in stores, so you should definitely be on the look out for it.  It's such a classic style that will be great for years to come.  
This outfit is made up of another great deal… the boots! These wedge boots are from the Christian Siriano line for Payless. They were originally $49 and are now on clearance for $25.  I signed up for Payless text messages and last month they had a $10 off $25 coupon. That made them $15… but then I also had a $2 off survey coupon and the $4 store finder coupon (because the 1st store didn't have the shoe in my size). And voila, these shoes cost me $9. The best part is that they are actually comfortable!  W and I always love chic finds like this that fit into our limited monthly shopping budgets.  
So lovely readers, as we always preach, you definitely can have style you love on a budget. It just takes a little planning and a bit of waiting to purchase something until they are marked down. We look forward to sharing some more of our money saving tips soon!
Until then, happy styling!
~L
Dress, Gap

Coat, Old Navy

Top, JCP

Bag, Coach
Earrings, The Limited (on clearance in stores)
Sunglasses, Fossil
Boots, Payless
Lips, Tarte in Fierce