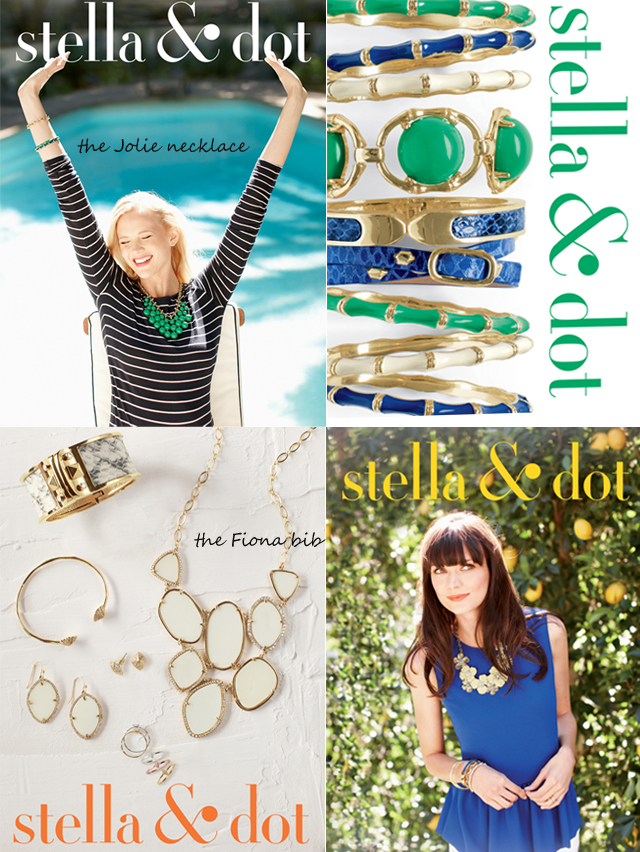 Here at the DoubleTake Girls, we love jewelry and accessories. Of course you lovely readers were already aware of that!  But in all seriousness, it was about a year ago that we discovered this amazingly pretty, chic and modern jewelry line called Stella&Dot. We've had so much fun wearing their pieces day-to-day and on the blog that we decided to become independent stylists!
While we are a few weeks out from warm and sunny days, the wait is over to view Stella&Dots' highly anticipated new spring line! The pieces are bright and fresh, and half of the items are under $50 – which we are thrilled about! Our top favorites for statement necklaces are the Jolie necklace, the Fiona bib necklace, and the Spring Awakening necklace. Bracelet favorites are: Christina, Zinnia and the Julep bangles, of course. But we can't forget the minty Lily Chandelier earrings! Please check out our new stylist site and leave a comment on our blog about your favorites!
As you can see from the lovely pieces shown above, it's almost hard to choose what to wear! Over the next few weeks W and I will be wearing some new spring pieces on the blog to give readers an idea of how we style our jewelry items for maximum wear. We will also be offering our readers a fun giveaway too! Please use our trunk show link here or below to place your order. Once you've done so, you will be entered into our drawing for a Julep bangle! Note: Any order amount is eligible for drawing, bracelet type is the first one in the top right photo.
Happy Shopping!
~L&W